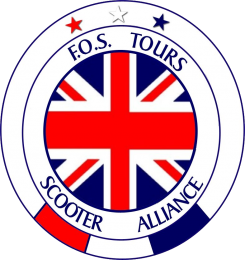 Next meeting for payment for Holland 2018 will be on Sunday, November 26th, 2018 at Crows Nest Pub as usual
See below a list of both TomTom POI files and Garmin POI files, which you can download by just clicking on them one at a time.
Once you have these files on your PC, (TomTom are .0V" files and garmin are .CSV files) you can connect your satnav and upload them as point of interest files (POI's), which you can then use next year to plan the correct route when we go to Hilvarenbeek.
The fuel stops on way out and way back are listed along with the Hotel, the petro station in Hilvarenbeek, the ferry port at Rotterdam and so on.
The 2018 European trip is going back to Hilvarenbeek to meet up with Goodbeer SC
Bob and Col are already working on the 2018 trip, back to the lovely Dutch town of Hilvarenbeek to meet up with our friends from the Goodbeer SC, Dutch Lions, and the Vespa Club Brabant.
The dates are  June 21st to 25th 2018
Those who came on this year's trip will get the first refusal (as always). Places will be limited as the hotel can only take so many. We are not planning to put people up on air beds, or the floor, as this didn't work out too well last time. 
Unlike last time, we are not planning to spend all day riding across the Dutch islands on the way there - we are doing the trip mostly on the motorway. It's about 70 miles using motorway, and we will stop once about halfway there to refuel. So if you ride past that Carlos, you may run out before the next fuel station.
More details will be coming soon.