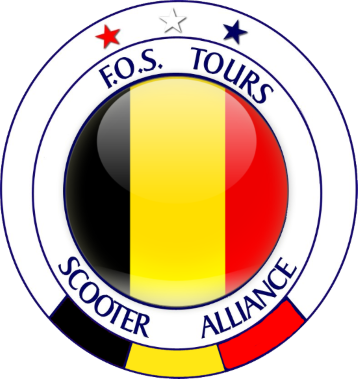 While having a fag at the back of the boat at 11pm, I got into a conversation with two members of the YSA and a trucker for North Allerton, all of whom had heard all about the German Invasion. 
The trucker said "It's been all over the airwaves. "You guys and your run to Cologne.  British truckers talking about you on the autobahns. Some of us saw you.   You must all be mad…. What possessed you?"" Explanation to a non-scooterist was futile.
FOS Tours German Invasion 2012
It's funny how a simple idea, dreamed up in a pub one afternoon, can turn into an epic adventure.  To cut to cut a long story short, FOS Tours from Grimsby, Hull Drifters, Louth Scooterists and Generations SC from Horncastle came up with the idea of holding their own 'rally'.   FOS organised the trip, booked the ferry, cabins, van, and planned for barbeques, beer, and fun for all.
D-Day
D-Day arrived, and it was an afternoon pre-assembly at the Hainton in Grimsby.  After a sterling lunch, we set off for the Sportsman's bar just outside Hull ferry port to meet up with the Hull Drifters contingent.   The place was full of scooterists and bikers heading for the continent. We lined up behind our 'leaders' Parker and Gibson who took all our passports and then proceeded to confuse the hell out of the Customs and ticket personnel trying to get us all authorised to board in one group.
12 hours on the boat started as all good trips do in the bar on the sundeck, photo shoot over it was beer and more beer.  Cabaret (poor but funny).  Gambling (also poor - or you were when you left the table) and more beer.  Then bed.  6am and the nice man who runs the tannoy was busy trying to wake us all up 2 hours before we docked.  After the most cursory look at passports by any customs officers I have ever met, we met up in the car park just outside the docks to get our bearings, and put on our waterproofs (yes, it was raining!)
Lethal
The roads were lethal, and the support van had to go in front so we all had something really big to aim at in the rain.  The motorcyclist we had cajoled into coming because of his satnav took up rear gunner in case of incident.  First fuel stop about 40 miles in went well, but it was at that point I realised this was going to take all day. You see, in Europe, when you use a fuel pump, it won't re-set for the next user until the last user has paid, so it took about 45 minutes to fill 30-odd scooters and the van!
Second fuel stop near Venlo, and it was still raining, but the petrol owner station coned off a whole lane of fuel pumps so we could re-fuel and then stand somewhere to dry out and have a fag.  Apparently, and unlike here in the UK, it's quite safe to smoke on petrol station forecourts in Holland, so we did!
Not far from the border, it began to go pear-shaped.  Suddenly we found ourselves pulling off the motorway into a filling station to repair Parker's broken clutch cable.   Within only a few miles more, word reached the main group that we'd lost Dave Walker, whose Lambretta stopped at the side of the motorway with an electrical issue. We pulled off at the next exit to find a McDonalds to hole up at while it was recovered.   We were going to send the van back until we learned the Dutch have a system where breakdown trucks trawl their main trunk roads rescuing stricken motorists, and for a 'bung' of 40 Euros, DW persuaded the guy to bring his Lammy an extra junction further on, where the other 30-odd of us were all rowed up in a line by the traffic lights next to McDonalds so we could take pictures of the first major breakdown of the trip!  A bit of re-wiring and it was running again in less than ten minutes.
Polizei
By early afternoon we still hadn't got to Germany, but at least it was drying out. Next stint was a biggy; we rode for what seemed like two hours until we lost another poor soul, this time on the German autobahn.  FOS Tours did what they do best; they obeyed the German traffic laws which forbid you to stop on the hard shoulder and instead, located a German motorway patrol car base at the side of the autobahn, all pulled into the car park, removed their helmets, and lit up a fag each.  The bemused German Polizei didn't seem too bothered, not even when one intrepid scooterist went and asked could he use their toilet!   The offending Lambretta made it to the impromptu fag stop was repaired and with fresh info from the Polizei about where the next petrol station was, we set off in convoy again. We caned the last 60 miles of high-speed German motoring until Köln hove into view.  Sticking together on the autobahn proved hard, so by the time we peeled off into suburbia south of Köln we had ended up in two groups. Some were following the support van, while the rest were behind Keith Hopkins who had a satnav wired up to his Lambretta.  Apparently, having no battery on the Lammy meant his route instructions were coming in fits and starts, but he kept everyone together.
Some of us ended up on a cycle track yet somehow met up with the rest of the guys, but not before a woman with her dog gave us a roasting in German!  Then, at a set of lights, both groups miraculously came together, and we rode into the campsite after an 8-hour trek across Europe.
Sympathy
Campsite fees paid, we all had a shower, and went to spoil the rest of the campsites fun by taking over the restaurant and watching the England game.  Nonplussed by the whole experience and now the worse for wear I went back to my tent, fell asleep for a while and later, after I had been a wee bit ill. I remember thinking, "Why, oh why wasn't I sick outside of someone else's tent!"
Next morning, we were up surprisingly early, and I happened to mention to Daz Grant that most of the stuff in my tent had gotten wet... "I could have been a lot worse", he said. "How so?" I asked. "It could have been my stuff, he said.  Such is the sympathy of a fellow scooterist!
The mysterious castle
There was a ride-out to a German castle planned for Saturday.  German traffic lights are wonderful – they change about every 12 seconds, so we got split up in the local town of Rodinkerchen.  German Castles are also much harder to find than English castles.  Ours are large and have battlements, in Germany not so.   You'll laugh, but we got directions from an English girl living locally and got to the town where the castle was and still couldn't find it. We asked directions, and then we all rode up half a mile of long cobbled road, bad enough to shake even the best Lammy or Vespa to bits only to find a large café. We rode back down the same road, into the town of Bruhl.  More directions, and we ended up in an environmental zone where two-strokes are not allowed, on tiny cobbled streets and brought the place to a stop with people coming out of shops and restaurants and clapping and cheering or at least it seemed they were from inside my crash helmet!  We rode back out again, noticed a sign for both the local train station and the 'Shloss' and discovered a beautiful country mansion or as it's actually called, Augustusburg Palace, set in parkland by the railway station. Castle, it was not.  Ride-out and photos ticked off, we went back to camp for lunch, where the FOS boys treated everyone to a barbeque, and then it was off into Köln for a night out.  Saturday evening in Köln was the usual Scooterists affair, bars, and beer, but I was a tad worried later when Biker Paul decided at midnight, he was going to wake us all up at 5.30am Sunday morning to pack up for the ride home. He was trying to explain to 30-odd, by now drunken scooterists that we needed to leave early, or we'd never make the boat. Good luck with that I thought.
The Kommandant
Just after 5.30am, I heard a loud voice telling us all to get out of bed.   Biker Paul (or as some of us had now christened him 'The Kommandant') got them all moving.  "No time for coffee" he bellowed, "get those bleeding tents packed away we need to get our arses into gear!"
The "arses into gear plan" was going quite well until Parker, worried his damp Lammy may not go, decided to kick it into life and rev the nuts off it for a few seconds ….  Enter stage left one of the campsite managers who came into our midst, rounded on one of the boys who just happened to be stood in the wrong place at the wrong time, and gave one of most professionally delivered pieces of English verbal abuse it has been my pleasure to hear! After all it as barely 6am.  Oh, we were in trouble now…. We had apparently woken the entire campsite
I know a lot of nice English peoples…..  
So, like a bunch of scolded schoolkids, we all pushed our scooters off the site to the entrance and waited for the van.  By now the really annoyed campsite manageress had dropped the barrier at the entrance and van was stuck behind enemy lines. She came out and addressed us all. "I know a lot of nice English people's, just not you", she yelled as she kept going on and on about the noise. From somewhere behind me a voice piped up, "Not as much noise as when we last in in 1943 though, love?" Fortunately, she didn't hear that!
As quietly as you can ride 30- odd scooters with tuned exhausts and make no noise, we all left and met up at the local petrol station to fill up before the long bash back to blighty.   Turning onto the autobahn, Rog and one or two others hit some diesel and did their rendition of speedway scootering.  Next, a few miles up the road, the van stopped, and we all pulled in. News arrived that someone's Lambretta had developed a serious speed wobble.  It was unfortunately Yabbo's scooter, the headset of which had come loose.  Not wanting to kill anyone on his first trip abroad, the van was despatched to locate the machine and it was bundled in the back until we could affect repairs.  We were just about to pull off the autobahn for our second fuel stop, when I passed Rog's Vespa slowing and pulling into the roadside. Made it to the next stop to find his electrics had packed up. Two scoots now in the van. Maybe it could be fixed, we'd see later.
Mad dash
The mad dash from Germany into Holland continued and speeds got faster.  MIA's Lambretta went bang – heat seizing.  Dilemma now was the van was full, so the plan was hatched to go back for his scoot and take Yabbo's 's Lambretta back out so he could ride it with the wobbly headset to the next services where it would be properly mended.   Riding a Lammy with wobbly steering is hard work and at 20 or so mph you attract attention on a motorway. We thought we had gotten away with this till later that night on the boat we found out some trucker had called the feds, explained there were 'mopeds' on the motorway and a bunch of scooterists from Yorkshire had been pulled by the Rozzers as a result.  Oh dear.
We pulled in at the first Dutch motorway services we could find and re-grouped.  We fixed what we could and put the rest in the van.  By 4pm we were all in Rotterdam having a beer outside the docks.  Rog and MIA's scoots were taken out of the van, and it went back for the remaining dead scoot.  All back in plenty of time to board so no drama really. 
Amazed
The boat ride home was quieter affair than the trip out. Most people were in bed early, so from a reporter's perspective, nothing to say, sadly.  I was also amazed that when, having a fag at the back of the boat at 11pm, I got into a conversation with two members of the YSA and a trucker for North Allerton, all of whom had heard all about the German Invasion.  The trucker said "It's been all over the airwaves. "You guys and your run to Cologne.  British truckers talking about you on the autobahns. Some of us saw you. You must all be mad…. What possessed you?" Explanation to a non-scooterist was futile.
Greeted Monday morning by a dull day in England, but thankfully no rain.   Got home later that day, running about 530 miles or so door to door.   But for MIA's blow up and an electrical fault we couldn't fix on Rog's LML, we'd have got 34 scooters back in one piece.  The FOS Tours German invasion of 2012 was a resounding success because we all enjoyed it. We all enjoyed the challenge, the company, the banter, the partying and not least the way FOS Tours boys worked so hard to make it entertaining, but by far the best praise any of us could wish for is that biker Paul has, as a result of this trip, bought a Lambretta.   Now that really is says it all!
Colin Cartwright