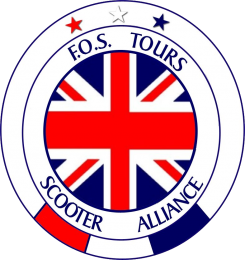 Try as we might to be professional, there is something that always happens to restore the balance to the FOS.  In this case, we ended the last FOS Tours trip with scooterists spread across Holland, football and culture getting mixed up, dis-array at the docks, being attacked by seagulls, and more breakdowns that you could shake a stick at.   Oh but wait a minute, we are not doing these trips again, so in the words of someone who once said something famous about football…..  "They think it's all over…. It is now!" 
Hilvarenbeek 2018. The Windmill Tour
The bond between the FOS, the Goodbeer Scooter Club, and the Dutch Lions SC, is what led us back to Hilvarenbeek, that and the town is nice, the hotel is great, and the owner likes a good piss-up as much as we do!
To beat our slow journey time from 2015, we opted for just one stop and half the journey on motorways.  We attempted to do several things the FOS is not known for; getting to our destination in short order, losing no one along the way and not getting lost; unlike in 2015 when some were still turning up at the hotel at 10 pm on the Friday night!
Everyone not only made it to Hull, but this time also they all filled up before boarding the ferry. There were no scooters in bits outside the sportsman's bar, though I did pass a slow-moving 'Rev' on the way past the airport.  Turns out to have been a loose wire.   John Grey was late arriving in Hull as he couldn't get his Lambretta SX going and ended up bringing a gun to a knife-fight by arriving on his highly tuned Lambretta GP instead!
Slow puncture....
Things began slowly in Rotterdam while we waited for John Grey to fix a puncture he had seemingly obtained while on the boat and John Nicholson's Dragster had developed a water leak which was looked at. The plan was to stay off the motorways for the first 50 miles, riding south across the Dutch Islands via Stellendam, Oude-Tongue, and Wilemstad, ending up at a BP garage on the A17, before joining the motorway to Breda and then heading East towards Tilburg and Hilvarenbeek.
It was dry on Friday morning when we left Rotterdam, but we had almost hurricane force winds.  Riding a scooter in horrendous gusts of wind while nursing a hangover, must be akin to trying to land a space shuttle with one hand tied behind your back.  I struggled to keep the plastic pig upright and wondered how Robbo was getting on with his mirror be-decked Mod Vespa?
No 'Benny Hill' antics at the roundabout in Stellendam this time, no stopping every five minutes for fuel; and everyone made it the 50 miles to the fuel stop.  Motorways next.   Normally, one of two things happens when the FOS do this.  Either everyone moans you are going too slowly, or you are going too fast.  After years of practice and equally as many of abject failure, I decided on 47mph. It didn't quite piss off the 'you are going to fast 'brigade and only a handful of the 'you are going to slow' camp bothered to say anything. I felt sorry for John grey though, 70 would have been more to his liking.
Motorway outriders...
The Goodbeer SC outriders joined us on the motorway just outside Breda and took the lead for the run into Hilvarenbeek.   We reached the hotel by 1 pm. The party began almost immediately, many of the FOS hit the bar and stayed there all afternoon.  This, of course, meant they were mostly hammed by 4 pm which only happened because they are not used to arriving anywhere until after its gone dark and simply didn't know how to cope!
Goodbeer Scooter Club had planned a ride out for the Saturday.   John Nicholson's Dragster was pouring water out so that got taken back to the hotel.  Coxy 'broke down' on the way to the start of the ride-out, but it just turned out he had forgotten to turn his fuel tap on and Dobbo had decided to leave his Vespa at the hotel, so it didn't get dirty. (Oh, sorry, because of an issue with the carb).  By the time the FOS, Goodbeer SC and our friends from the Dutch Lions left Hilvarenbeek centre, Dobbo was in the van, John had taken Wonky's MP3 and shortly after the ride-out began, Rob Warner's Vespa clutch packed up and he was side-lined.
Gin and Vespa's...
After a ride through some outstanding Dutch countryside, we spent half an hour at a Gin Distillery at Spoordonkse Watermolen.    Next, it was on to a Vespa Garage and museum in Biest-Houtakker, south of Tilburg, where we hoped they may help Rob with his clutch. As it turned out the small 'D' piece on the top of the clutch arm has broken in two and luckily for both him and the Vespa mechanics at the museum, Chris Sadler had the sense to bring one as a spare.  It was offered up and the PX repaired.   Several people tried to get into, and have their picture taken in a Vespa Ape sat out front; me I was just hoping they didn't break that as well!
From the museum, it was a short ride to our final stop of the day at "In Den Bockenryder" at Esbeek, not too far from our base.  It was on these back roads that Paul Batchelor came off his Vespa while trying to avoid Coxy, who after exiting a corner, was unable to find his next gear, almost stopping dead in Paul's path.  Luckily, Paul was OK, the scooter, not so much. The way in and out of the In Den Bockenryder is a sand road which was like rallying and meant twitchy bum time on two wheels. It also meant everything not only got covered in dust, but it all got sucked into people's carburettors.  Like feeding time at the zoo, the FOS managed to grab something to eat and drink there before heading back to town for what was a brilliant Saturday night. The bars, restaurants, and pubs in Hilvarenbeek really do cater well for scooterists; some even ventured to sample the seedier delights of Tilburg.
Van wankers.....
Sunday morning dawned, as did a plan that would split the FOS up and test the patience of Bobretta and his growing team of van wankers.  England were playing in some game of football or something, and half the FOS wanted to forsake their friends and ride back to Rotterdam to watch the game before boarding the boat.  The rest wanted to go see some Dutch history and visit the Windmills of Kinderdijk north of Dordrecht.   Cartwheel was leading the charge to the Windmills and Craven steering the footballists towards a flat-screen TV and possible disappointment in Hellevoetsluis.
Before any of that, the Goodbeer SC had us heading to the middle of Breda to visit the Vesperado's Vespa Day.  John Nicholson's water-cooled Dragster was already in the van and buried under bags and on the way to Breda, it was joined by Paul Batchelor's Vespa that had holed its piston, possibly because of its dirt track rallying the previous day. The Vesperado's been pleased to see so many of us and once we were all vespa'd out, The FOS set off towards Rotterdam.
Follow the leader, which leader?
I didn't see this as I was leading the pack on the road, but as Perry and Jeroen of Goodbeer SC, (who had led us out of Breda and onto the motorway), peeled off to the right and waved goodbye, following which, half the FOS scooterists stopped on the motorway stopped wondering who to follow!  After this John Grey's GP wouldn't start so for the sake of expediency it went in the van. Not long after that Bob got a call to say Chris Sadler's Tetley Tea Folk Vespa had lost all power and stopped at the side of the motorway.  With no room in the van now and precious little time, they managed to get it going and headed for the meeting point at Brielle; slowly!
Meanwhile, as I pulled in with 20 Fostorians to the car park at Kinderdijk, two of the Hull Drifters asked where they were going to watch the game! And at roughly the same time, about 60 kilometres away to the south west, two other members of the FOS that had followed Craven were a tad disappointed there were no Windmills in Hellevoetsluis!   You really can't make this stuff up, can you?
Moaning Mod.....
FOS Tours Culture Division turned up at Brielle at about 4pm to meet up with the van and a pile of broken scooters, which now included Dobbo's Vespa, as it too had suffered terminal carb issues. We sat and had a quick beer while we figured out what time we needed to be at the port, where everyone was, did England win and so on.  Much of this time was taken up by Robbo moaning incessantly about us riding too fast, leaving him, the wind, and more about the wind.  Just as we were getting ready to leave Phil noticed Waggy was missing. He decided to go for a meal, which put a spanner in the works.  Once he'd eaten, we rode the last 6 miles to the Europort where we knew the footballists were now sat in the pub on the docks.
Then, as we tried to check in chaos ensued as the nice lady at border control wanted everyone to present themselves at the kiosk but only in the groups of 8 that they had been booked onto the boat in!  This took some sorting out as one or two of them were still missing, and by the time we had, John Greys Lambretta again refused to start, meaning he had to push the thing up the steep curving ramp to the car deck.  Just as he was about to have a coronary, one of the deck hands saw him and ran to help, but as he began pushing, he was for some reason, attacked by a seagull who no doubt had a nest close by. The GP was finally aboard the boat, as was the now wounded deck- hand with blood pouring from his head.
Try as we might to be professional, there is something that always happens to restore the balance to the FOS.  In this case, we ended the last FOS Tours trip with scooterists spread across Holland, football and culture getting mixed up, dis-array at the docks, being attacked by seagulls, and more breakdowns that you could shake a stick at.   Oh but wait a minute, we are not doing these trips again, so in the words of someone who once said something famous about football…..  "They think it's all over…. It is now!"   And no, not FOS Tours, just the trips!
Colin Cartwheel