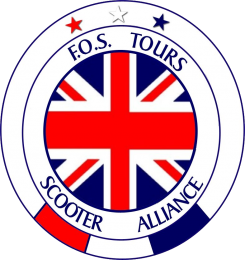 No longer the preserve of die-hard Euro Lambretta enthusiasts, many scooterists now ride abroad.  Where FOS Tours differs though, is in the sheer numbers they take. Added to this, organising their own trip rather than attending a foreign rally, sorting out location, travel, accommodation, ride-outs and entertainment, and the route for up to 60 scooterists. While this all sounds very professional, in fact, it isn't. They often get lost, take ages to get where they are going and rarely does anything go according to plan once, they get there!
Full of Shit!
If you ask any of the FOS what the initials mean, they'll tell you it's a secret. Anyway, the name goes back several years, when, sat in a bar, some of the lads were discussing going to Holland on their scooters. One of the locals scoffed, "You lot are full of shit, you'll never do that". They did, the name stuck, and nine years on with numerous trips to Holland, Belgium, Germany, and France under their belts FOS Tours are now actually struggling to find hoteliers daft enough to take a pile of drunken scooterists under their wing for the weekend!  The 'victim' this year was a hostel in the town of Lier near Antwerp, found by Jan Van Schijndel of the Goodbeer SC and easily capable of holding the 56 scooterists who came along.
100% waterproof
Given we'd been basking in a heatwave up until the Thursday we left for Hull, no one was expecting the rain, hailstones, floods, and pestilence we rode through on our way to catch the boat to Zeebrugge. Lashing rain as we rode through the murk over the Humber Bridge turned into hailstones and badly flooded roads the closer we got to the docks. In my case, the last few miles done with no useable brakes at all and as you could barely see, it was entertaining, to say the least. Minutes after we got to The Sportsman's bar, the sun came out! Later, as I queued up to board the ferry, I was wringing my gloves out while simultaneously marvelling at how much water had gotten through my supposedly 100% waterproof boots! Someone commented. "I am amazed no one's bike broke down in all that water". "Stupid boy," I thought, "why is there never any wood around when you need to touch some?"
The route to Lier was simple enough. 50 miles on the E34 motorway, off at junction 11 to nip for fuel, then another 35 miles on the N403 south through Sint Niklaas and Bornem, followed by N14 through Duffel to Lier. It was warm, dry and sunny as we disembarked the boat on Friday morning. What could possibly go wrong?  Well, Daz Grant pushed his Lambretta off the boat and it died shortly after, the result of a broken kickstart shaft and un-compliant gearbox. We didn't make it another mile before we lost Nathan Yarborough, whose front hub had a hissy fit, locking his front wheel for him. 4 miles; two bikes in the van. This wasn't looking good.
Lemmings
Scooterists are a lot like lemmings in my experience, many just play follow the bike in front, and I don't get far before I start losing them. 56 scooters (54 since we landed in Belgium) stretch more than a mile on the road and take some managing. Going through Zeebrugge, we had a badly signposted right turn that would take us to the motorway, so after making the turn I pulled over where they could all see me and waited for them to catch up. This would set the scene for the rest of the days riding; except for the one time, we lost a whole bunch of lemmings in one go!
Of course, up at the front, I can only see about a dozen of them in my mirrors, so we keep plodding on out of Zeebrugge and onto the motorway. The E34 is the first motorway I have encountered that has traffic lights on it, and it meant I had to periodically slow right down while those who got left behind when the lights changed, caught back up. Any thoughts you have about riding off and pinning the throttle simply don't work when you are trying to lead a large group of scooters. I rarely hit 50mph on my GPS speedo on the motorway and still, we were losing people.
New underpants
I had thought my 'ride like a snail plan' was working until we turned off the E34 and rode 2 clicks north to Kappellbrug in Holland, to fill up. I didn't want to do this but there isn't a single petrol station on the E34, so we were left with no choice. Looking around at the garage, I counted only 29 from 54 bikes. I was told that a large gaggle of lemmings had ridden right past the turn-off, following the 'lead lemming' in their group, rather than looking at the actual road signs. At the same time, we had suffered yet more breakdowns including Chris Murphy and Ryan Day, whose Lambretta cutdown hit a bump on the motorway, snapped its back shock clean in two, and sat on its arse at 50 mph! When I caught up with him, Ryan was trying to explain the words 'underpants' and 'new' to the Dutch lady behind the counter at the garage!
Bob Grabiniok had his hands full trying to fit 4 bikes into the van and was still miles away, so I got on the phone trying to locate the missing lemmings, who, having realised their mistake had pulled off at the next exit and one of their number had finally turned his satnav on to find out where they were! You couldn't make this up if you tried, could you? They would later regale me with tales of the dangerous six-lane wide high-speed Antwerp ring road and its multi-filter traffic lights that nearly got them all killed. Exactly why we had planned the back road route from the fuel stop and why I had begged them all, that if they did nothing else, they were not to miss that one motorway exit.
Drifting apart
Despite the inherent difficulties in getting lemmings to follow instructions instead of one another, the FOS are quite good at managing large groups of scooters, and once we got on the back roads, I was being helped out by Tiffy Whitehead, Lee Davison, and Lee Preston & Russ Barber and the rest of the Hull Drifters. They were kept busy picking up the stragglers and bringing them back to the group, sitting at junctions and roundabouts pointing the way, then riding like nutters to catch back up and do it all over again. Andy Robinson was periodically riding up and passing on useful information, and generally keeping an eye on things. Top work from all these boys. Almost all the roads we use are new to us and marshalling is a brave thing to do in a foreign country when you don't have the satnav or know the route.
Are we there yet?
At this point, more breakdowns would have been an issue as the van was full. The FOS always tell everyone, if you break down, just pull over and wait; the last thing on the road is always the van. I did laugh when waiting at a set of lights near Bornem; I looked in my mirror and saw the van turn left onto the motorway. I knew it was full and couldn't take any more scooters, but it did panic one or two. Bob was trying to get to the hotel to unload the broken scooters just in case any more broke down so he could come back for them. Thankfully the remaining miles passed without incident. The closer we got, the more I had folks riding up to me at traffic lights asking "How far now Col?", and "Are we there yet?" On more than one occasion, I just made something up to see the look on their faces. We made it to Lier and the hostel mid-afternoon, unloaded and set about doing what scooterists do best, drinking and taking the piss!
Village idiot
Ruddy got so wasted on Friday night he made it to within 100 yards of the hostel and fell asleep on a tree stump in the middle of a kind of village green. He was woken by the local plod, who kindly brought him the rest of the way to his hotel, asked the rest of us (who were almost as drunk), to look after him and said they hoped he would feel better in the morning! If you want to try something almost impossible to do, first get drunk yourself and then try getting a large, pissed up rugby-playing scooterist extricated from the confines of a small plastic garden chair, in which he has somehow managed to get himself trapped after pretending he was riding a racehorse! Hours of fun wasn't it John Grey?
Spaced out
With four broken scooters and a hotel chair to fix, Saturday morning was busy. We bring a lot of spares, oils, gaskets – in fact almost everything except Lambretta kickstart shafts because now I find that Chiggy Chambers also has a broken kickstart shaft! Bob called Jan from Goodbeer SC who managed to arrange for whatever parts we didn't have on stock, and a local guy to weld up Gaz Crossley's broken Vespa exhaust. I watched Piggot, Storr and a cast of dozens figure out what the problem with Yarborough's front hub was. A missing spacer left out by the bikes previous owner was apparently the cause. Everything was eventually repaired, and the rest of the day and evening was spent, you guessed it, at the pub (or several pubs).
Lier is a great town to visit, and they even staged a music festival on the Saturday night for us, complete with bands, DJ's, and laser light show. John Grey had everyone in tears with his Belgian 'hearts and minds' tactics, which backfired somewhat when he tried it on a really drunken local, who was henceforth named 'Belgian Bob' and wouldn't leave us alone. Still, at least he'd stopped racing garden chairs.
Amnesia
Paul Craven fell backwards off a high bar stool and hit his head on a concrete floor. When the lady who owned the bar came rushing out saying he had fallen and was unconscious, all his 'mates' asked was "did you get any pictures?" A normal person would by now have been in the back of an ambulance. Craven, however, is far from normal and was walking back to the hotel, obviously concussed, with the help of some of the FOS. He rode home Sunday with two broken ribs, a stonking headache, and is now simultaneously both the stuff of legend and in serious trouble with her indoors!
Projectile
The ride back to Zeebrugge was marred (for me at least) by the fact I was unwell. I eventually did throw up at a set of lights but had to keep moving. (Aren't flip-front helmets amazing?) Fortunately, Russ Barber from the Hull Drifters led the guys out of Lier and back towards Kappellbrug and the fuel stop. I ran at the back, mopping up, as it turned out, a small amount of vomit, and stragglers who had been "left at the lights". I had about 20 of them with me by the time we got to the fuel stop. What I didn't have was Eddie, who had taken a wrong turn and ridden off down the motorway in the wrong direction. I saw him do it, but there wasn't much I could do as he was too far ahead of me at the time. When we stopped, we tried calling him, to no avail. After waiting the typical 'concerned scooterist' amount of time at the petrol stop, we thought sod it and hit the motorway for the run into Zeebrugge.
Thrashed
Belgium wasn't done with claiming scooters just yet. Chris Sadler's 'Tetley Tea Folk' Vespa, which he had been thrashing to within an inch of its life to catch back up, properly heat-seized on him, quickly teaching the lad what a locked back wheel feels like at 50 mph and that auto-lube is a truly inadequate lubrication system. For expediency it got bunged in the van). He did though, ride it home from Hull on Monday morning). We made it back to port in time for a beer before boarding the boat after another successful FOS Tour. Oh, and Eddie found his way back to us courtesy of Google maps, once he'd turned his phone on, so I tore up the letter to his family explaining he was missing in action.
Another fine weekend
The only downside and it was bound to happen at some point, was the Lier Hostel manager 'fined us' 250 Euros for making too much noise and keeping him awake all of Friday night. He did not, however, apply the same rules to a group of Dutch lads who stayed on the Saturday and who made much more noise… I assume because they were leaving Sunday anyway and his leverage was minimal! In 2018, FOS Tours are going back to Hilvarenbeek to meet up with Goodbeer Scooter Club, Vespa Club Brabant, and some of the Dutch Lions again. And for once we are going to take over an entire hotel and small town where everyone not only just loves us but joins in too. I can't wait.
Words and photos: Colin Cartwright