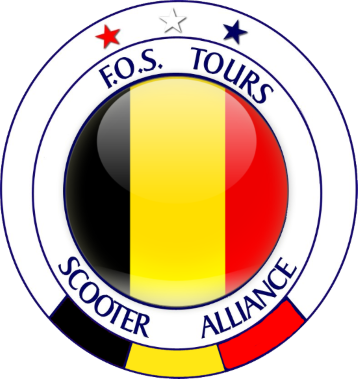 Flying in face of common sense, we had worked out there was on 'off-ramp' from the motorway, just before the roundabout we all knew would take us to the pub. that would take us the same way. Caddy agreed, Col had checked.  It didn't!! We ended up going back the way we had just come! Can't write this shit can you
Ypres. The Return… 2016
Some asked "why go again when you have been there before?" It's not something the FOS normally do. For the most part I will leave those who came this year to answer that, but comments like "That was the best FOS Tour yet!", and "What an awesome weekend that was!" are still ringing in my ears as I write this, so I hardly think we got it wrong.  It had a lot to do with the fact we all love the place, and that a third of our number were newbies to Ypres, or that the place is both scooter and Brit-friendly, but whatever it was it worked like a charm.
Rear Gunners
It began at the Hainton in Grimsby, as all FOS tours do and by the time we got to Keelby, Cravo and I, who were sat as rear gunners, were already mopping up stragglers!  Now that is a word you will hear a lot more as this story unfolds.  In fact, we followed Coxy and Easton to Hull and at one point I began to wonder if we had missed the boat – we certainly missed everyone else!  Of course, I wasn't aware of Chiggy's issues with a plug oiling up and a popped-off carb rubber making the van even further behind us 'official stragglers', but who is keeping score?  The rule is you never leave a man behind in the FOS; something of a mantra for Bobretta and me.   In fact, Chiggy's tour almost never began because of an issue with his scoot, until Pete Lusty stepped in at the last minute to lend him his bike. Hats off to Pete.
Stragglers
The 'stragglers', arrived in Hull to Find Chris Murphy had Nathan Yarborough's Lambretta almost two thirds dismantled outside the Sportsman's Bar.  I wondered if they knew the boat was not only sailing that day, but in less than an hour?  Problem was a broken exhaust stud, but Murphy managed to sort it. Lee Davison's Lambretta had decided to eat its flywheel side woodruff key, and the crank looked like something a rat had been gnawing on. In the end a new woodruff key a liberal dose of what looked to me like superglue did the trick. (He rode it there and back anyway!) Chiggy made it too, but only after missing the exit and going on to the next roundabout first, but when you end up in Hull traffic on your own and have never been there before, understandable.
Bingo!
On the boat over to Zeebrugge a new thing happened. Yes, we had beer, and the T-shirts and photo shoot, but this time there was Bingo too! I kid you not, Bingo. I have never seen such a dedicated bunch of scooterists, eyes down and looking in to see who was going to beat who. I almost choked at one point, mostly from pissing myself laughing, but let me tell you it will be the next big thing at scooter rallies if what I saw was anything to go by!
Friday morning dawned dank and misty in Belgium. It wasn't exactly pissing down, but close.  Should be a simple affair. E403 motorway to the A19, then left and Ypres.  Two junctions, 51 miles and one fuel stop at 35 miles in for Webbo's TS1 and Horwell's bike with its tiny tank. No drama. And pretty much it wasn't.  Except for the newly set up Belgian roadworks. 12 miles before the fuel stop, we were all 'funnelled' into a single lane with concrete barriers either side. "Great", I thought, leading the pack, "we will be screwed if anyone breaks down in here".  Unlike in the UK there is no 'health& safety' in Belgium. No run-off areas. No breakdown zones and I could see sod all behind me but the next five scooters. I slowed down to 45. You must deal with the hand that is played, I guess.   In fact none of the Belgian road-workers even had hi-vs or hard hats on, and at one point a Komatsu 360 digger swung its bucket right across the lane I was riding down.  I ducked!  
Big turbine
The petrol station on the E403 is the ONLY place to fill up en-route, until you get to Ypres.   Big set of services with a mahoosive 200 foot high environmentally friendly wind turbine right across the road from it. Hard to miss.  We told them all, we even gave them each a pack with photos of same. And to be fair, most of them stopped at it!  Most, but not all. Having spoken with Bob, I knew Webbo had all but run out of fuel and was being helped at the roadside by Dodge.  (Mental note made to go only 25 miles on Sunday!), and John Grey had broken a cable, so we pulled in, fuelled up and waited to recover the 'men down'. Next thing I notice is several of our number, including John Horwell (who's gestures as he rode past with Ryan Day on the back led me to believe he wasn't even slightly happy), riding by, led by Mick Norvock and Caddy. I wasn't concerned they would get lost with Caddy leading them, but I was bothered about Horwell's impending stuttering to a halt at the roadside. "Hey-ho, you can't have it all" I thought, and who follows the plan anyway?
Stragglers
Having recovered what we thought at the time were 'the stragglers', we set off in hot pursuit.  2 miles later we turned onto the A19, then left towards Ypres. It wasn't long before we were having the piss taken out of us as we arrived in Ypres, by the leading pack, and by Carl Searby (make a note this will become important on Saturday).  FOS Top table member, Mick Norvock, led them all under the Menin Gate and they then waited patiently in the town square for the other 35 or so scooters to arrive along with Bob who had all the documents and so forth. For looking after the men down, we were immediately known as, you guessed it, "the stragglers".  So, the mantle had passed.  Unlike the previous 7-hour attempt, this went swimmingly and not only was everyone in the pub by about 1 p.m., but most were shortly thereafter; hammered.  On Friday night there was much merriment and even more beer.  Although he doesn't even realise it yet, Bomber has already done all the photos for the 2017 FOS Tours, "fat bloke half naked on a scooter" calendar, so I guess you can work out largely what happened to us on Friday.
Hill 62
The plan on Saturday was to take the guys to Hill 62 and then on to Tyne Cot Cemetery, before a quick jaunt back to Ypres. Hill 62 is only 2.5 miles from the hotel. We managed about 200 yards before we found out Gaz Crossley had been left behind. We stopped and waited. Under the Menin gate and right at the lights. Cartwheel (me again) rode at 10 mph, to be sure they had caught up. Thinking they had, I set off again. As it turned out I was one of only a handful that went straight on at the first roundabout we hit!  A mile up that road, Caddy entered stage left to advise there were now scooters heading off all over the place. Cartwheel waited at the entrance to Hill 62, and Caddy set of to round up 'the stragglers', which included, shock Horror, Norvock and Searby. Once again, the mantle had been passed.  In the end we got them all to Hill 62, a place it must be said, of sombre reflection. I won't bore you with the figures and the death toll here, but if you have not been and looked all this, you seriously need to go and see for yourself. I was so upset last time; I didn't even go in for a second look this year. I may be poking fun in this story, but what those guys who fought in this went through is no laughing matter.
Satnav binned
The trip to Tyne Cot was a seven-mile uneventful affair, well save for a closed road and a lot of 'thinking on the job' for yours truly and Lee Davison who had turned into my chief 'aide de camp'.  The odd housing estate and country road later, and with the satnav binned because of the Belgians penchant for just barricading off roads willy-nilly with no thought to signposts, we arrived. No one was more surprised than me when we found the place!  Once there, I was asked by Messrs. Waller and Chambers if there was anything else to see, and not wishing to miss a trick, myself and Davison went for a blast round locally on the scoots while the guys were at Tyne Cot.  We found the Passiondale Museum and Dug outs, and once the boys were all done, managed to lead them all there.  A fantastic place. Once that was done, and getting braver by the minute, small numbers set of for Ypres on their own, including a GYSC contingent led by Waller. Once I had convinced him not to turn right at the end of the road by the museum but go left instead and the signs for Ypres were all in fact spelled as IEPER (that took a bit of explaining if I am honest), they also all made it back.
I was impressed by so many of them taking the road into their own hands in a foreign country. Navigating is hard enough with a satnav, even when you have been before, let alone trying to read road signs for Ypres that are spelt locally as Ieper!! If you think it's easy, you maybe ought to have a go. The Belgians Road signs are bleeding awful.  We all made it back in time to go to the Flanders Fields Museum in Ypres. I went with our new calendar star Bomber. A mind-boggling place full of information you can't ignore, but at the same time, wished you didn't have to know.
Biker Chick
Saturday night we all went to the Menin Gate and found a new pub next to it after Gaz had been barred from our normal 'Ypres haunt'. I guess apart from the wreath that Bobretta and Roger placed on our behalf, the highlight of the evening would have been Gibbo getting leathered, were it not for a biker chick called Sue. I sat talking to her and her partner about bikes, scooters, and similar crap – they often feign interest when outnumbered. The boys had all had a go at hitting on her to no avail. Enter stage left Andy Waller, who got a big cuddle from her followed by her now infamous words, as she put her arms around him for a picture…..  "Look a biker and a Mod!"  Well, Gibbo erupted as only a pissed Walrus can. The bar erupted and henceforth Andy Waller is now a mod! Comments like Paul Waller, Mirror Boy, and such spring to mind. What I will say, is that following a sombre last post that had the likes of Cravo and Nathan Yarborough in tears, it was probably exactly what we all needed. Some humour and light relief.  Paul Waller of course, will pay for that for the next ten years.
Cresta Run
By 11 am Sunday morning, we had all the scoots out of the beer garden (either down the cresta run of makeshift ramps, or via the slowest hydraulic ramp you ever did see) and in the street.  Cartwheel began taking groups of folk to the garage for fuel and trying to explain how the card-only petrol pumps worked. After three trips he had had enough. That said, some were not going to fill up. Instead, they were going to risk running out of fuel based purely on Col's prior knowledge of where every garage was on the route back.  Interesting based on the fact he doesn't live in Belgium?  The ride home began exceptionally low key and at one point, when we were still in the town square at 1 p.m., I thought we were staying another day! I know the FOS are laid back, but really? Bob and Col got them all into the town square to discover Harpham and Easton were MIA. Harpham outside the hotel mantling about with his clutch and Easton his throttle cable. We mucked about a bit more, Got one going and stuck the other in the van. Photoshoot 'ops over it was time to hit the road before we missed the boat.
Back Roads
Back roads going home. Another turn-up for the books as its usually the other way round. After Cartwheels' experience of roadworks on the way in and the fact there are no filling stations northbound on E403, we headed for the N31/N37 country route back. Couple of hours it should be. Breakdowns and panel –offs started.  Rev's Vespa (sorry, LML because if it had been a Vespa, it would have been fixed) went in the van, followed by Bogis' lammy auto after it's electrics went AWOL. Added to the already sick Harpham's lammy. We got awfully close to Zeebrugge by about 2.30pm and then disaster, or is it just the FOS, struck.
Round in circles
None of you know this until now, but both Col and Phil knew already, as did Cravo, that if we went to the first roundabout at the end of the motorway on the run to Blankenberg, and took the fourth exit, we would all end up outside the pubs on the beach in time for a beer before boarding the boat. We had even been there before!  So, what did we do? Well in our defence, and by the deft use of google, maps, and flying in face of common sense, we had worked out there was on 'off-ramp' from the motorway, just before the roundabout that would take us the same way. Caddy agreed, Col had checked.  We ended up going back the way we had just come! Can't make this up, can you? An entire weekend of near perfection, mucked up in the last 500 yards.  So, we finish our tour on a side road, on the wrong side of a motorway, in a place where we could see the pub we were heading for, but with no way to reach it. Priceless.  The balance was once again restored to the FOS.
To be fair, Webbo's' Lammy was pissing gear oil everywhere, so it was as well we stopped. The final stragglers included me, Carlos, Duane and Webbo, and Bob found us, which was nice too. We did make the pub in Blankenberg despite Bob explaining to Cravo we should head for the docks to sort out the van and the bags! I think Cravo's need for a kebab outweighed common sense at that point, boat, or no boat… so he led us to the pub instead.   Despite the FOS, we all got back home safe and sound. Donlin even survived a 55mph blowout on the road to Barnetby after the Humber Bridge. He does bounce in case you were bothered at all.
Moral?
So, is there a moral to this story?   You bet there is. Whatever you do, do not get so pissed you feel the need to remove some of your clothes and get photographed on other folks' scooters, and for god's sake do not end up being branded as a straggler.
Colin Cartwheel.