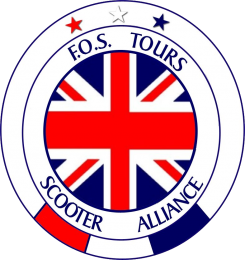 Not renowned for the use of bad language or any kind of slang, even Phil Caddy was heard to say "We smashed it".
Well I don't know about him, but I certainly did, or was that just my scooter?
Colin Cartwheel
Lost in France 2014.
The 'Allo, 'Allo Tour
The biggest issue with taking 60 scooterists abroad is the stories must get longer, as so much more happens. Get yourself a beer and go for a pee now, because this is going to take a while…
No Parking
FOS Tours 'All 'Allo Tour 2014 almost came unstuck before it started when, with six weeks to go, the hotel informed us that the pre-arranged parking had fallen through. There may have been space nearby, but could we persuade anyone…err… No.   The British Consulate and Lille Tourism Board tried to help while Parker and I phoned every car park in the city. Not easy with our command of French! We eventually landed a gem in the shape of Nadege Lellemand, who not only found us a secure parking spot, but also at a discounted price.  It was a mile from the hotel which wasn't ideal, but then neither was sticking base camp in the centre of a French City. The problem, as always, was trying to find anywhere to take 60 blokes on scooters.  It took almost 6 months searching, emailing, and talking to half the establishments in Northern France to unearth Hostel Gastama. Throw in Gay Pride weekend in Lille and it was certainly going to be different.
Mopeds in Hull
The fun and games began less than a mile from the start when Parkers Lambretta decided to let its front disc brake drop to bits.  We later found out something had worn out, which is amazing when you consider the mileage it does.   Searby later said he thought the offending part had rusted away, possibly from it being repeatedly washed to get rid of the cobwebs and then just put away again!   The rest of us rode to meet up with the Drifters at the Humber Bridge and following a head count to make sure we hadn't lost any more; Moxy explained his plan for a photo opportunity. We were all going to ride along the Clive Sullivan Way (the busiest dual carriageway in the area) slow down to 15 mph, taking up both lanes, and bunch up while photographers took pictures from a footbridge! Not to worry because two cars would stay behind us to block all the traffic.  There was a brief radio interview with Moxy and Gibbo, and after moving Ypres from Belgium into France, we got ready to leave for the rolling road photo shoot.  It was all going brilliantly till those driving the cars stayed in the Bridge car park taking photos of us as we left. 
Not only was the photo shoot a success, but we made the radio news locally; and I paraphrase…." Traffic is almost at a standstill this afternoon on the Clive Sullivan way as reports have reached us of over 50 mopeds being ridden very slowly into the City Centre…."  
On the plus side, everyone filled their mopeds up before boarding the ferry this time and it all seemed to be going quite well.   Next came guess which dock we are leaving from.  Rather than check (or ask Roger as he knew), the boys rode into one dock, turned round, and rode out again, followed by all the other scooters. Down to the Rotterdam berth they all rode, and then all turned round to go back to where they had just been.  I never laughed so much in ages. Wait till you see the video…….
Over…
We landed in Zeebrugge in brilliant sunshine and searing heat. This time it didn't take long to get under way, and most of the issues seemed to surround all the satnavs going haywire at the same time.   Young Stewart thought we were already lost when he got a text message from Vodafone, saying welcome to the United States….   Next, parker and Gibbo started mucking about the with the bike-to-bike radio sets we had recently bought.  When Robbie got his back and plugged it in, he pressed the PTT button and I hear in my crash helmet, "Col, can you hear me Col?  I am going to sing to you all the way to Lille, over".  "FFS" I thought, just what I  need!  "If you do that, I will find you and I will kill you, over!" I replied.  I heard nothing more for quite a while. If he was singing, he was out of range!    Fitzy was getting arsey and wanted to crack on (presumably hoping to beat our 55 miles in 7 hours record of last year).   I then set off out of the docks on the wrong side of the road straight towards a police car!
Near impossible
Despite Jake riding alongside and distracting me right at the point we should have made a right turn, forcing me to guide 59 scooters down an emergency services only access road off ramp, so as not to end up in Bruges city centre, we had just joined the N32 to Torhout,  when the first of Fitzy's many stoppages  occurred!  All the stuff had flown off his back rack, so 11 miles in and we had 60 bikes parked at the roadside while we waited for that to be sorted. Situation normal then.
The satnavs had us going round in circles literally on the outskirts of Torhout, so after a brief trip round the local town, we ignored them for a while and followed the ring road southwards towards Roselare.  At one point Robbo rode up to me to me and asked why his TomTom kept telling him to go back to Zeebrugge? While the answer to that was fast becoming obvious, I said I would look at it later when we stopped!  The satnavs were near impossible to see in bright sunlight anyway so there was a lot more 'guessing' going on than anyone behind me other than Caddy and Craven realised. It is indeed fortunate we spent so long checking this route out as a lot of it we were doing 'from memory'.
I don't know if you've ever tried to ride on the wrong side of the road in a foreign country, scanning for road signs while at the same time squinting at your satnav and keeping your third eye on your mirrors to see where 59 scooterists are, while simultaneously having someone talk into a radio set in your crash helmet and have various folk also ride alongside you  and ask questions? I guess it's a bit like trying to drive a car with one hand tied behind your back while someone simultaneously pokes you in the eye and hits you round the back of the head with a stick! Still, we were managing to keep going south…
Too much beer?
Breakdown number two came just before we hit the Roselare ring road when Fitzy's Lammy stopped again. Different bits were dropping off it now.  It was put in the van, while we pulled over and waited at a very accommodating petrol station just before the motorway round Roselare. Once they arrived, it took about 45 minutes for Pat Piggott and Fitzy to repair the problem. Meanwhile almost all the 60 scooterists managed to use the toilet of a very understanding tyre fitting business next door! His command of English restricted to "too much beer on boat, yes?".  Not the first scooterists to use his bogs then…  Next into the van went Paul Batchelor's Vespa.  Just as we re-joined the N32 south of Roselare, his rear wheel came loose.  While we waited for half an hour just up the road, Paul and Rob tried unsuccessfully to tighten the hub nut back up, so it was put in the van for the sake of safety.   Next stop was the only planned one, at Ledgem; just north of the French border, where we asked all 60 scooters to fill up. We have this down to a fine art now and can get 60 bikes fuelled and every one fed and watered in 40 minutes.  It looks like utter chaos, but three bikes fuelling at each pump simultaneously and it works.  Fortunately, we'd had the presence of mind to phone this garage the week before we left to warn them of the impending chaos.
Lemmings
I telephoned Nadege Lellemand to let her know when we would arrive in Lille. She advised me the press were waiting for us and could we hurry up! The last leg of the journey was by far the trickiest.  Dozens of roundabouts and sets of lights in a 12-mile stretch.  Not an issue with a handful of bikes, but a nightmare with 60!  We had a FOS meeting where I explained (or tried at least) that we would run in three groups. Twenty would follow me, twenty would follow Paul Craven and the remainder would follow Phil Caddy. This was a good plan right until about a minute later when everyone rode off leaving me, Paul and Phil and a couple of others behind! You really can't make this up. The three people with satnavs and the route left at the last fuel stop while everyone else just rode off following the first scooter to be struck up! It's a bit like watching Despicable Me, with grown up minions on scooters sometimes.
Off we set in hot pursuit to make sure they didn't all crash into each other at the first junction they came to, and somehow it all settled down while we made the slow 12-mile urban journey to the centre of Lille. I ended up with about 25 bikes behind me, Phil had similar and Paul the rest.  Outriders were a waste of time in Friday afternoon Lille traffic – it was far too dangerous, and we had been warned by others not to try it.  Those of you who came will recall me insisting you all read and memorise the last few miles from the photo's I carefully printed off 60 sets of with the local map.  Those who did that found the car park first go. The rest had a 5-mile trip around the ring road to try again. We got about 50 of them there in the first wave which was way more than I had expected.  Paul did especially well in the end because he was fastidiously watching his satnav at the most complex five lane junction on the way in, when it turned itself off just after he had ridden past the road signs!
Mantova
All pulled up outside Euralille, the biggest shopping centre in the city and the road was virtually blocked. We were greeted by Nadege and the boss of Vinci Car Parks. She told us it is OK to park on the pavement, so we blocked that instead. The local police were made aware of what was going on and had been asked for their support by Vinci, and the press interviewed (or tried to) some Fostorians about their trip to Lille. I only found out after we got back home that we were supposed to have gone on to Santova in Italy for Vespa World days!! Can't believe a word the press write can you.  While all this was going on, Craven and I were doing a head count because we could see they hadn't all made it yet. We were getting ready to go look for the stragglers when they arrived.
It took from 10am to 1.45pm for the majority of us to get to Lille.  3 ¾ hours to go 58 miles.  Better than last year.  Almost two hours of that we were stopped fuelling or sorting breakdowns.  I doubt you will ever get 60 scooters to go much faster and keep them together like we did.
'Colin'…..
Vinci staff then led us to a cordoned off area of underground secure parking so we could park the bikes and un-pack our gear. I was advised by Vinci that the local police and their army colleagues were only keeping an eye on us to make sure none of the scooters got taken, and that we would have no issues with them at all largely because of Nadege's boss.    Nadege also realised early on, that giving us bunch of Neanderthals magnetic cards to get in and out of the car park was not going to work as most of us would lose them in the first bar we hit, so they came up with a funnier plan.  Anyone who wanted in or out of the car park, just pressed the call operator button and shouted 'Colin'.   I doubled up with laughter. It would be like the panel-off league only worse! One of the boys asked Nadege "How do you say Colin in French?"  She replied, "The same of course".  Next came the mile walk to the hotel in 35-degree heat.   Amazingly, out of the 60 of us who were given a street map, one daring scooterist had brought this with him.  Undeterred, some others decided to ignore this all together and ask a local, whose language they couldn't understand, what the best way to the Gastama Hotel is!    Reliance on 'local knowledge' would bite many Fostorians in the arse on Saturday too, but more of that later.
Game of mattresses
The who's sleeping where and the mixing up of the mattresses game came next. I won't bore you with the details, or how quickly the room plans got binned, but after scooterists had been changing rooms and moving mattresses about, myself and Craven were left with room keys to rooms that were full, and no mattress to sleep on.  We looked for the main organiser, but Fozzy had done a runner, so we asked Gibbo to sort it out.  Craven, normally known for being quiet, managed to get his room sorted by quietly yet firmly suggesting he would soon be burning down the hotel if he got left in the bar much longer.  No one argued with him on that.  Save for Searby and I having to move a mattress from the top to the ground floor and find an empty space in a completely, different room, I was too tired by now to be bothered.   In the end it somehow got sorted out and once Paul was ready, we went out to sample what Lille had to offer.  Apparently, the gays and lesbians were a day behind us, so we had the place to ourselves Friday night at least.
Not that it lasted exceptionally long for some. Strong beer and hot sun meant that Nellie was being carried to bed at 7.21 and 11 seconds precisely by Dave Walker.  While Gibbo was busy negotiating for the exclusive use of an entire pub near the hotel, some wandered off into Lille to see what there was to eat. The consensus was that it was mostly poor and over-priced. By the time we had made it back to what Gibbo described as our new 'local', he had managed to get the beer prices dropped from 5 to 3.5 Euros a pint, had exclusively scootering sounds blaring out on the dance floor and arranged for free pizza and chips each night at 9pm. Only Gibbo could turn up on a street he has never been to, in a country where he doesn't speak the language (or even English for that matter!) and organise such a thing.   And what's more, the locals seemed to love it too. I sat back and watched as Rue St. Andre, in the Latin quarter of Lille, got slowly turned into any scooter rally you care to mention having attended.  On Saturday morning we had a man down. No one had heard from Ruddy, and it transpired he gone off into town, become ever so slightly inebriated and was unable to find his way back. He did eventually return in a cab just before we left for the ride out!
The Dome
FOS had planned a ride-out to Normandy to a place called La Coupole (or 'The Dome' in French).  It was the impenetrable bunker near St. Omer from which Hitler launched all the V1 and V2 rockets on Blighty during the war.  The place was about 45 miles away so getting 60 bikes there was going to be a three hour job, longer still if Fitzy came too! .  As luck would have it, Parker met the ONLY French Lambretta scooterist in Northern France – Julien De France (yes really) in our local on the Friday evening.  Julien gracefully offered to lead us all to La Coupole on the Saturday.  Of course, nothing FOS is easy, so we ended up waiting an hour for Yabbo to change cables or some such thing? Fitzy had sneaked off much earlier to get his Lammy ready for the off so as not to hold us up, (or was it out of embarrassment?)  But it all came to nought, as is the way of the FOS.
Our new 'local' satnav, Julien De France led the bikes off from the car park,  so Caddy and I just sat at the back scooping us anyone who got left behind at the lights and so on. The ride began by a hair- raising blast along the Lille inner ring road. It's a three and four lane motorway a bit like the M25 except the cars go faster and change lanes a lot more often and with even less warning.  To say taking 60 bikes along here was scary was an understatement. Some of the manoeuvres from car drivers were eye-popping.
Once on the route Nationale to Bailleul, all we had to do was keep stopping for Fitzy to fix his very stubborn Lammy. Three times we waited at the roadside before we made it halfway there! For the most part we kept together, but in Bailleul Fitzy, Caddy, Davison, Stewart, Walker, and I got separated at a set of lights. As we turned left, we saw Keith Richardson waiting for us. Good man. I stopped. He said, "They went that way" and pointed. I said – "we are going that way" and pointed to the road on the Right!   That was when the Magnificent Seven began their epic ride, and the time the rest of the FOS got well and utterly lost in France – following local knowledge!
Cartwheel
Caddy took up the lead with The Dome on his satnav and off went the seven – tonking along all the roads we had gone over when planning the route. We pulled in at the planned fuel stop thinking we really should have seen them by now at the speeds we were riding; nothing.   I texted Dodge to let him know who we had in our party and that we were all OK, and off we set for Hazebrouck.  It was all going swimmingly till a roundabout just outside the town.  It had been raining and the roads were wet, Lee was ahead of me and as I leaned into the thing the back of the Vespa just snapped away, and then gripped again chucking me over the bars. No warning, nothing. For a moment I thought I was going to take Lee down with me, but luckily, I missed him.  Slick roads, water and diesel don't offer much grip.  When the lads stopped laughing, they all came over to help me up and get the bike back on its feet.  Keith seemed a bit too bothered that his headcam had been taken off him by Moxy that morning. I was in shock, while Keith and Fitzy were bemoaning the fact, they could have retired from the resulting video clip being on YouTube!!  We decided to nip across the junction to a supermarket so we could take stock.   Straightened out what we could on the scooter and obviously everyone was asking if I was, OK?  It basically all hurt so I had no idea. Dave Stewart offered me some of his newly acquired French man flu pills. I politely declined them.  I hadn't the heart to tell him, especially as they had made him take a blood test before selling them to him, but they looked more like hay fever pills to me, and hay fever was the only thing I didn't have.
 "He needs a drink- let's get a coffee and give him a cigarette", looking back now I thought that comment especially funny as I was the only one of them who smoked!)   "No, No, He needs sugar not caffeine" and so on.  I was utterly amazed to find that after ditching the Vespa and narrowly avoiding breaking my collar bone and wrist, that after consuming a cup of fizzy pop – I would be right as rain! Fitzy, to cheer me up, began an impromptu dance to the sounds blaring out from a VW that had entered the car park. This had Stewart in raptures, but it didn't work on me.
Had enough
We rang Gibbo to tell him the news.  They were at the roadside too as Parkers Lambretta had apparently rusted away completely and was suffering with all sorts of issues, as was Yabbo's newly re-cabled bike too.   Then Gibbo quietly asked me how far away we were from la Coupole. Phil and I reckoned about 12 miles at most. Gibbo then said "How the fuck have you managed that – you were behind us, and we are still 55 kilometres (34 miles) away!  This lot have had enough and decided they need to head back".  We later discovered they had stopped at a war cemetery called Croix Du Bac near Estaires.   Dead on 55 kilometres from La Coupole because it is south of Lille nearer to where we set off from, than where we were going!    Julien had unwittingly led them in a big circle. Only the FOS can do this kind of thing properly. It takes years of practice to fuck things up in such a big way and it should never be attempted by anyone else! Of course, the French seem to have it off to a 'T' also.
Magnificent 7
The Magnificent Seven decided to crack on the la Coupole on their own, and then go back to Lille the long way round, via Belgium and Ypres to the North as Keith had missed the Last Post at the Menin Gate in 2013.    I just tried to keep up; now unsure of what would happen if I chucked the Vespa into another roundabout.  I did have some psychiatric counselling from Fitzy, but the truth is it didn't help.  To summarise; "You fell off better than anyone I have ever seen. That's why you haven't broken anything. You even tucked your arms in - well done.  We'll fix it properly when we get back to Lille. Now get back on the fucking thing and don't ride it like a girl!".
La Coupole was an interesting place and after a good hour there, we headed across country and North towards Belgium.  In Hefault, five of the seven rode past a local rozzer in the town while Lee and I got stuck behind him.  He saw what was going on and pulled over to let us past. "Ha. Just so you can follow all of us I thought".    At the next roadworks we all shot off going far too fast so the rozzer stayed right behind me.  At the next set of lights, I turned and saw him laughing. As the lights went green and Fitzy pinned the throttle he leaned out of the car and just shouted "allez, allez" (Go, Go in English) Then he turned off.   Not long after that Caddy led us down a 1 in 3 hill of winding roads made of the most uneven cobblestones I ever did see. It must have been bad because I saw Paul riding on the pavement and the grass at one point. I made a mental note never to buy a Garmin.
Monsoon
The seven of us got to Ypres about 6pm (another breakdown for Fitzy on the way – yawn) and went off in search of the Drifters, Louth Scooterist Rob Fox, Alex, Rob Hugill, and young George, who had all made the trek North rather than stay in Lille.   We met up in the square just as monsoon season started.  Never seen rain like it.  We all got stuck in the entrance to the Cloth Hall for about half an hour watching Caddy's waterproof jacket get soaked after he had so carefully and neatly padlocked it to his bike.  Later, while the Drifters took Keith to the Menin Gate, the rest of us waded out of the square in search of food.  At least in Belgium you can get a decent meal!  
8.30pm, the sun was back out, the roads drying, and we set off back to Lille, now about 20 in number.  We were having a cracking ride back, this time led by Alex Lehman who had his tomtom running after mine had been destroyed in the accident.   It was all going great until we lost some of the Drifters on a long straight near Geluwe on the N8 close to Menen.  Fozzy's Lambretta had rolled to a halt – no power.  We turned round and found the guys at a farm not far back up the road.   Everything was tried to get the thing going, but the Lammy was having none of it.  Duffy suggested the easiest thing to do was tow it back behind another scooter, but try as he might, the look on Fozzy's face made me realise he was not keenat all!  A handful of the Drifters stayed with Fozzy while the rest of us hi-tailed it back to get the van. By now of course the rest of the FOS were on the lash and of no use to us save for organising to find the van keys and make sure the van was ready, which Gibbo duly did. We made it back to Lille at 10pm, 12 hours after leaving.  In the case of the Magnificent Seven, a 178 miles round trip across two countries with two places of interest under our belts.
To get into the car park, we first had to use the secret password. I was pissing myself laughing as one by one all these grown men were pressing this button and shouting 'Colin'  at the top of their voices.  Nothing…. The gates stayed closed. Then one of the Vinci guys came out and opened them for us. Apparently, he had been standing guard over the other scooters when he heard my name being yelled by everyone!
Limping
I limped back to the hotel, not in the best of moods I have to say by this stage as I hurt all over and realised, I had severely damaged my right ankle.  If I was rude to anyone then please accept my sincere apologies. This time we followed the Dave Stewart short cut, which I am sure is further than the official FOS on Foot route.  I made a mental note to both beat Parker to death when I arrived back and to ensure that in 2015, we park the bikes no more than 10 feet from the hotel!   Fitzy and the guys went on ahead to get the van back for Fozzy.  By this time, they had been at the roadside two hours, and it was dark. We need not have worried.  As the sun set Moxy realised two things.  One. He was wearing hi-vis. Two. He had a flash on his camera phone. So, the Drifters contingent of FOS set about scaring the shit out of the locals. Every time a car drove by, he set of the camera and watched as they all saw the hi-vis wearing scooterists and stood on their brakes!
Mooning
Of course, the poor souls who stayed on their bikes all day, largely missed out on what gay pride had to offer.  Stewart brought his red frilly cowboy hat but seeing as he was riding shotgun with us all day, it didn't see much action – when it did the boys simply nicknamed him "Woody" from Toy Story, so that didn't work out too well.  Carl Searby got fondled by a couple of them, but largely they either gave us a wide berth, or didn't get too close to the rowdy scooter music 'pop up pub' that Gibbo had so lovingly created for us! Even the sight of Craven, much happier now, mooning to them in the street didn't seem to have much of an effect?
And those Hull Drifters missing in action got back to the newly opened FOS Local just after last orders had been called. I won't bore you with the antics of those on the lash. You all know who you are. I will say that Ray Wilson distinguished himself admirably, (even though he took the look of 'special needs scooterist' a bit too far) as did Craven (mooning), Robbo (looking like a gay hobo), and of course Parker who never fails to piss himself at some point…
Army in charge
We re-assembled half an hour behind schedule at Euralille to get the bikes out and once more brought the place to a stop.  We were being shepherded by members of the army now, as well as the Gendarmerie, but they were more interested in having their pictures taken sat on the scooters than anything else. One of the Vinci guys informed me the police had said we could run our own rolling road blacks as we left the city and had instructed all his officers to go along with whatever we did, (which was nice).
The cavalcade rolled out of Lille just after 10.30am, this time heading north up a different road.   It took some keeping them together until we got out of the city, but with far less traffic, we were blocking every roundabout and herding folk through red lights. At Le Madeleine, Caddy stopped.  From the back I knew he was struggling as we needed to be turning left, but none of the junctions had so far allowed us to do that. Craven concurred, his tom-tom was still telling us to go north, and left, but we hadn't seen any left turn permitted junctions. Word was sent up the line, just turn left at the next place you can, and we'll find our way out somehow.  Caddy eventually got us back on track. No mean feat really. For those of you reading this that think leading 60 minions on scooters out of a foreign city centre is easy, you should try it some time.
Minions
Just outside Lille we hit a snag. We rolled into Blancfour on the D617 to find the road closed! Unlike in the UK, they just put small 'deviation' signs up and we had all ridden past that – only Fitzy had realised what it meant but he couldn't get anyone to listen so on they rode!   We all stopped, and the plan was to ride back down to the last roundabout and go around the town.  Not everyone got this, so some stayed behind. Why I don't know. Crossley and I were covering the roundabout to point the way and no one else came up the road. We went back to find that rather than following the group, they were looking for another way out??   Dodge called and I said, "Gaz and I know where you are, but we've lost a few of them – give us a few minutes while we round them all up!"  We had to go round the town and get everyone together.  It turned out when we finally got the missing minions back; we were waiting less than 200 yards from the main group, just round the corner from each other at a set of lights!
Re-united, we set off again North on the N32 had one more fuel stop at the Belgian border, and then turned left for Moorselde to head to Passiondale and the Tyne Cot Cemetery on the way back to Zeebrugge. There was some confusion as we turned off the N32 – I saw scooters riding round a grassy triangle at the roadside.  Had the minions finally beaten Phil and taken over?   I had assumed Phil had stopped to let everyone catch up, but having seen the video I am no longer sure…
Hole-in-the road
As we entered Moorselde centre, the roads were once again dug up and blocked, but this time completely. Caddy's Garmin had nothing to offer in the way of a re-route, so the FOS rode right through the roadwork's, in between two huge excavators, into a hole in the ground and out the other side. Moxy may have been stood at the barriers explaining the road was closed, but did anyone listen?  No. I was laughing so much I nearly fell off the bike- again.  We all stopped on the other side of the roadworks, to see Fitzy coming out of the dust and walking between the diggers with crash helmet in hand, looking like a scene from a Clint Eastwood cowboy movie.  I thought "Oh no what's gone wrong with his bike now?"  The van had to make a huge detour, but with Alex's help it also got to Tyne Cot and re-grouped. While everyone was wandering about looking at the graves and laying a wreath the FOS had brought to pay respects to our fallen, Caddy, Moxy and I began to realise we were running out of time to get everyone back to the boat.  What with two closed roads earlier, time was getting tight. Now we didn't tell many of them, but we decided the E403 motorway was the only course open to us. We hustled them along and hit the road. Two junctions later they were doing   55 on a motorway. Sat at the back of all this, it was an amazing sight to see a mile and half of scooters running line astern. In fact, almost as far as you could see there were scooters! Most of the cars passing us were slowing down to film this too.  Col Williams was wringing the neck of his small-frame Vespa. I know, I followed him all the way into Zeebrugge. By the time we got there, I'd had enough of feeling sore and was relieved to get off the bike. Parker got his wish as we had just enough time to go visit the scruffiest pub in the world in Blankenberge and grab a beer before queuing up for the boat.
Ship to shore
The last two panel - offs came at the dockside.  Dave Crowe, who was amazed earlier in the day at how well his Vespa had been running, couldn't get the thing to start as we boarded the boat, so the van had to be called back to pick him up. The final straw came when the ship to shore radios were interfering with Caddy's alarm system, rendering his twist and go useless. We had all the panels off that we could get but couldn't stop the alarm going off till the boat got out of range of the docks!
Took 60 scooters to Lille, got 60 scooters home safely;  58 of them still running.  The FOS lived up to its name for making sure everyone had a good time.  The balance of the FOS has also been maintained, after most of the group got monumentally lost in France.
I'd like to thank Phil Caddy, Paul Craven and Alex Lehman for helping with and then taking over the route-finding duties and Rob King for driving the van – without them none of us would have got there or back.   I'd like to thank the magnificent seven for a belting days riding on Saturday. And those Fostorians who dared once again to organise something bigger and better than anything they have done before.   Most of all, I would like to thank every single one of the guys who came along on the adventure.  They are the ones who make these trips so interesting so funny and so memorable, and in my eyes some of the best fun you can have on a scooter.
Not renowned for the use of bad language or any kind of slang, even Phil Caddy was heard to say, "We smashed it". Well, I don't know about him, but I certainly did, or was that just my scooter?
Colin Cartwheel