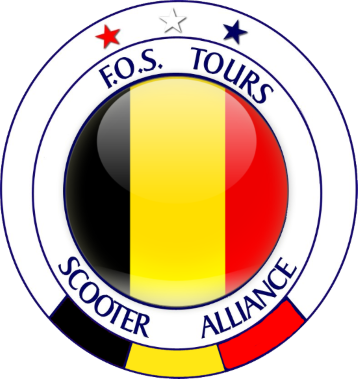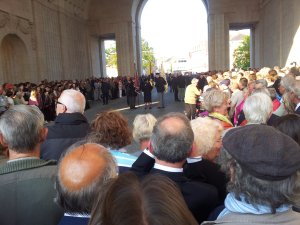 "They may have been too big a group to manage properly, they may have had to nurse sick scooters and stop a lot, some may have been woefully badly prepared for even a short 50 mile ride on foreign soil, but they made it.
One Fostorian, in the car park at Hull docks was heard saying, "That was the biggest emotional roller-coaster I have ever ridden". He never mentioned his scooter! That sums it up nicely."
Colin Cartwheel
FOS Tours.   2013 Remembrance Trip to Ieper.  June 6th to 10th 2013.
In 2009 a handful joined the first FOS Tours trip to Holland. Five years on, after several successful European trips, 56 scooterists from Grimsby, Cleethorpes, Hull, Louth, Horncastle, Boston, Leicester, Newcastle and even London, came together to ride the 2013 Remembrance Trip to Ieper.   There were members of FOS Tours, The Hull Drifters, Generations SC (Horncastle), Louth Scooterists, The Leicester Scooter Alliance and The Under 5's. Oh, and they were joined by members of the Dutch Lions at one point during the weekend too.
There's nothing unusual about a group of scooterists going to a rally, local, national, foreign, or something they have planned themselves. This time there was.  FOS tours weren't just going on the lash; they were taking a large contingent of scooterists abroad and riding en-mass to one of the biggest war memorials in one of the best-known towns in the world to pay their respects to fallen soldiers.  This really was different.
The trip was planned not long after 34 members of FOS Tours came back from their 500-mile round trip to Cologne in Germany in 2012, and the biggest problem they faced was the sheer number of scooterists who now wanted to join in.  The idea was to meet at The Hainton in Grimsby for lunch, then nip to The Bradley on Laceby Road before riding to Hull, meet up with The Drifters, board the overnight boat to Zeebrugge and make the short 50-mile trip from there to Ieper the following day. What could possibly go wrong?
Knitting needles
7.45am on the morning they were due to depart, Col was woken by the phone ringing. It was Robbo from Generations SC. "Hi Col", he said, "It's started". Half asleep, I wondered if the buggers had moved the time up and left without him, but Robbo went on… "I'm just off to Spooner's house with a bottle of piss, two knitting needles and the keys to my Twist-and-Go". Completely bemused, but now awake, I asked "Why?"  "Well, his Lammie is dead. He spent half the week trying to get it going properly. I told him he could borrow my Twist-and-Go, but he said he'd rather drink a bottle of piss and stick knitting needles in both his eyes. We're at minute-one now, and it's still not running, so I'm off to oblige!" I laughed and thought, he's right, it has started….. Robbo put the phone down.
When I arrived at the Hainton at mid-day with fellow Louth scooterists Rob Stewart and Daz Grant, I met Robbo, but Mickey was nowhere to be seen. "Where's Spooner?"  I asked,   "Oh, he's gone to Beedy's on the Twist-and-Go to get some new swinging arm bolts – they are falling out, he'll need to be really careful riding it", said Robbo seemingly un-concerned. That was breakdown one then.   News then reached the FOS that the Leicester contingent had gone a man down barely 25 miles from home after Caddy's Lambretta had died at the roadside and needed AA recovery.  Still, he had a Twist-And-Go to fall back on. Just a matter of whether he got home in time to do the swap and make the boat. 'Team-mate' Darren stayed with him. Not out of any sense of compassion you understand, but to photograph the Lambretta being winched onto to a tow truck for the FOS panel-off league and to make sure Caddy got his two points!
Breakdown three came about a mile up the road when, having left the Hainton en mass, The FOS  pulled in to the Bradley Inn on the Laceby road to meet up with the rest of the gang and wait for the local press who had heard about the trip.  MIA's Lambretta had somehow wrapped its speedo cable around its front brake cable and pulled everything below the dampers to bits, Pat got down on his knees and stripped and rebuilt the front end of the Lammie while we  waited for the rest to roll up. They should have realised all this was an omen for things to come, but never gave it a second thought.  At The Bradley, the FOS met up with Terry Allen, one of their number who has been incapacitated for some time. They were sad he couldn't make this trip but glad he was able to see them off.
Shepherd's
2pm came and it was off to Hull to meet the Drifters and catch the ferry.  Breakdown four came Just past Barney's café on the M180 roundabout, where they all passed Paul, who's Lambretta, had stopped, unable to select any gears.  It wasn't safe for everyone to stop, so they rode on to the Humber Bridge, leaving Pat to work his magic once more.   On arrival at the bridge, they re-grouped and Moxy from the Drifters, who had been waiting for them, explained there had been a serious accident on the main road into Hull, so the Drifters were going to 'shepherd' everyone round the back streets to get past the crash as the road to the port had been closed by the Police!  There followed about 45 minutes of trying to get 50 or so scooters through traffic mayhem; thanks to The Drifters, they managed it brilliantly.  Quick fuel stop at a garage in town where the plan was for everyone to fill their scooters up before boarding the boat, then it was off to the Sportsman's bar to rendezvous with the van.  By now the FOS were running out of time, so the last thing they needed to hear was that the van was stuck in a traffic snarl up because of the accident, especially when some had left their passports in their bags inside the thing!  Drifters to the rescue once more, Moxy set off to find the van and bring him to where they were waiting. They made it to the docks just in time!
Boat boarded, it was time to get changed for the photo shoot and a few beers before the wreath ceremony for departed friend Mark Steel.  Once in International waters, bright green Tour shirts donned, 56 scooterists followed the Purser through a busy restaurant (much to the bemusement of those eating) to the rear of the boat to lay a wreath at sea for Mark.  Eddie Gibbs of the under 5's SC played the last post and just after 9pm the wreath was dropped over the side.  There followed another night on the lash on the boat…. Nothing to see here. Normal scootering had resumed. The usual stuff, silly dancing, air guitar and Jakes damp trousers.
Malfunctions
We disembarked just after 9.30am Friday morning to be greeted by brilliant sunshine and a cloudless sky. Daz the mod had a panel off moment as did John Harpham, and one or two others were poking about round their scooters, including Robbo from Generations who both his panels off.  Breakdowns were coming thick and fast (as were the photographs) and they hadn't even left the docks! While all this was going on I learned a few things that were not going to help as the day wore on. Having planned a simple route on the E403 and A19 (motorway and dual carriageway) weeks before the event, I now discovered one of the Lambretta's couldn't be ridden any faster than 40 - 45mph.  Next the three satnavs' available seemed unable to be programmed to avoid motorways.   It also came to light that not everyone had filled their scooters up with fuel before leaving Hull! Though to be fair at that point everyone was under pressure to make the boat due to the accident.
While Col, Keith, Paul Craven and Fitzy were planning a way out of this mess, Jake announced they were all going on a detour to the seaside town of Blankenberg, because he had a plan that involved spending the day there on Sunday, oh, and could they leave now as the Belgian contingent of P&O were insisting on booting them out because they were blocking the place up!   No one ready, sick scooter, last minute detour to add in, a complete route change and malfunctioning satnav. All going to plan then!
All I could do was programme the satnav for Blankenberg, get everyone there and then see what could be done.  Trying to read a satnav in bright sunlight, as it vibrated constantly on my left mirror, while at the same time trying to watch the road, keep an eye on 55 scooters and a van behind me, Jake rode alongside and asked me to find somewhere they could all park up for a photo!  Of course, having just put in the word Blankenberg, the satnav did exactly as it was asked and minutes later, the FOS were riding round the one-way system in the town centre; screwed.  Well, most of them were. There was a bunch who had 'missed the cut' so to speak at a set of lights. They were all busy riding up the main street, then back down it again wondering where the rest of the FOS were. Worse still, Moxy got accosted by a local who tried to sell him two scooters. Ah, normal FOS antics were coming to the fore barely five miles in….  The locals took the high-pitched sound of 56 tuned exhausts riding up and down their peaceful streets rather well. And as no one had managed to keep up, there was quite a lot of riding up and down before everyone finally met up outside a church in the town centre. Totally oblivious to the chaos going on behind him, most of which he had caused himself by adding this 'new destination' to the route, Parker wandered off to the shops, I borrowed a paper map from Paul and Fitzy, Hoppo and I tried to work out how to defeat the intransigent satnavs while we waited for everyone else to find us.
No idea
I had no idea how hard it was to keep 55 scooters behind me, despite riding slowly. This was a new experience, not just for me, but for many others, because half had never ridden abroad before. By this time I was wondering why I had volunteered for thew job?  No one knew why Blankenberg was added to the route, but it was a blessing in disguise; at least we had a plan. The idea was to tell the satnav the next town, while trying to avoid anything that looked motorway-like, then stop and re-set the thing for the next town along. The 'mistake' was telling everyone what the next town was called, because they all thought they were going straight to it.  In truth, they just needed to get close and look for the next place on the list while avoiding motorways and town centres and all the issues that would bring up with 56 scooters and nowhere to pull over and wait when they got split up... it would have been easier to Platt fog! But we were in Belgium and no-one, so far, had offered another solution.
We headed towards Oostende, the idea being to go from there to Nieuwport, then Veuven, then take the N8 to Ieper. It was all going fine until we turned left off the Oostende Road to take the outskirts to get to Nieuwport. Knowing that some needed fuel I stopped at a garage. One of the 'main organisers' pulled up and asked me why had we all stopped, told me everyone had petrol so let's 'crack on'.  I assumed those who needed to, had filled up in Blankenberg, so off everyone set off again. I was dead wrong. Ten of the group pulled in to fuel up and presumably, while they were at the pumps, wondered why the rest had just buggered off?  Worse still, the support van had pulled up too because Lee had a panel off his Lambretta. This was my last day of making any assumptions.
Only 8 miles in and already ten men down, no support van and in my case, oblivious to all these facts as I could only see the scooters directly behind!   About 3 miles later, we turned right at a roundabout and pulled up to let everyone re-group. It was then we discovered we were missing quite a few people as well as the van. We waited. Big cheer when we saw the 'missing' approaching; complete incredulity when they went straight over the roundabout and rode right past.
Deserter
We sent Sean Wagstaff after the splinter group and van on his Twist-and-Go. He never came back. Ten minutes later we sent Gunner Crossley off to find out what was going on. He did eventually return, but by himself!  We tried calling the van only to find Dave's phone didn't work in Belgium!  (You couldn't make this up, could you?) Almost an hour had gone by so an executive decision was made to go on without 'the splinter group'. FOS later found out when Waggy caught them and said the main group had turned right, they said they knew the way (I am being kind here) so he just followed them.  He was immediately officially tagged a deserter and is still awaiting court martial.
I re-set the satnav for Veuven knowing we would be at the N8 and 18 miles from Ieper with only back roads. But, and it was a big BUT, we had to take a 9 mile stretch of E403 motorway to get to it. No way around this issue thanks to the detour to Blankenberg earlier in the day, so sick Lambretta or no, it was going on the motorway.  When the group stopped for fuel I broke the news. No one seemed to take much notice, probably because they came across the one thing d everyone had been told about at a pre-event meeting, garages with no one working in them and credit card only pumps. They don't seem to confuse car drivers, but scooterists appeared unable to figure them out, so they were all busy trying to work that out and probably didn't hear?
Sick Lammie
Once again thinking that everyone had fuel, we set off.  Knowing about the sick Lambretta, I kept the speed between 45 and 50 mph. (You can't legally drive any slower on Belgian motorways), but halfway into this 9-mile stretch, Mikey 'D' from the Drifters pulled alongside and told me they had lost the sick Lammie as it had overheated. The group pulled off at the next exit and again they waited. We phoned to find the rest had made it to a motorway services a mile or so back and The Lammie was being allowed to cool down.  Half an hour later, the lost souls were seen peeling off the motorway.  The FOS re-grouped, and I made sure everyone knew they still had 4 miles of motorway to do before reaching the N8. As we were at an intersection with another motorway, and at the side of a busy dual carriageway, the safe plan was to turn right at the next exit and double back. They set off, turned right, and stopped almost immediately!  Some of them hadn't followed because Eddie's Vespa had a flat back tyre! The sick Lammie had overheated again, so maybe it wasn't such a bad idea…  (Beginning to sound familiar this isn't it).  Mickey Spooner was given the satnav details and set off back to talk to them. Ten minutes later they were all re-united, but on opposite sides of a busy dual carriageway.  So, we sat and they waited, again…  Pat and Chris Spelman helped Eddie change his Vespa's rear wheel. To do this they had to remove the exhaust, but the bolts were seized. Half an hour later they got the wheel on and then it wouldn't go. They stripped the carb, cleaned it and got it running. Then they discovered the spare wasn't blown up properly and the wheel they had fitted had a nearly flat back tyre, so someone pulled a short straw, and was made to dodge traffic running across the dual carriageway with a foot pump. A car went past and blaring out the dulcet tones of Chris Rea banging out 'The Road to Hell'! Got to laugh haven't you…
While all this was going on someone asked why had I been doing almost 90 on the motorway and maybe that was why the Lambretta had stopped….? My Vespa is flat out at 55mph so that was out of the question. Riding along later that I realised he was doing almost 90Kph, not mph!  To be fair, by then they had all lost the will to live but weren't much over halfway on one of the shortest rides in living memory, so it wasn't that surprising.   I turned round to see young Rob Stewart sat on his scooter, head down over his headset. He too had lost the will to live. Bear in mind it was in the high 20's centigrade and we had all  sat in the sun for over an hour by now watching this comedy of errors un-fold.  Rob was wearing his full combat waterproofs.  Any water or food we had was miles away in the van!
At one point as we watched the near complete re-build of a Vespa from the other side of the road, I began to wish Eddie would just play the 'Last Post' on his bugle and bury the fucking Vespa  - and I wasn't the only one…. Of course, the usual scooterist law of buggering off and leaving these guys after an appropriate amount of time had gone by could not be enacted on foreign soil, especially as the van had chosen to sneak off with the official deserter and the splinter group, and was, in any case, probably in Ieper!
The Road to hell?
Back on the road again, they rode as slowly as traffic would allow until they hit the N8 which had to be one of the bumpiest most rutted roads anyone had seen.   As we struggled to even get to 40mph on it for fear of being thrown off into a roadside ditch, I wondered whose scooter would be vibrated to bits first?  With about 12 miles to go, we pulled into a petrol station to let everyone re-group and  was gobsmacked to find we still had people who needed petrol!  Thoughtfully, while the fuel station owner had buggered off leaving his card machine system in place, he had at least had the foresight to put the thing next to a bar. It wasn't long before everyone was partaking light refreshment.
Sat on my scooter, I was only waiting for Jake to walk up and tell me he had a plan to visit the world's largest block of Belgian cheese just up the road or some such thing when a Belgian National TV camera car pulled up at the roadside. 'What now' I thought, 'Surely Jake hasn't entered us all into the Belgian equivalent of Family Fortunes?'  Thankfully he hadn't and the TV crew left, moments after which, and only because Brian couldn't fashion a credit card out of cardboard and a biro, I found myself filling up 6 scooters scooters on my credit card.
We may have been struggling to hit 40 mph on roads that appeared to have been left out of the post WW1 re-building programme, but people were struggling keep up, so, at the last roundabout before Ieper, I pulled over to let everyone catch back up.  Minutes later a whole pile of scooters rode right past!   As the only person left in the group who knew how to find Ieper and the hotel, I was bemused. I soon realised however, we had less than two miles to pass them before they had a repeat of Blankenberg; so, wrong side of the road, throttle wide open, hanging on for dear life I only just got to the front before the first junction in Ieper. Five minutes later we were all riding up a cobbled street and parking outside the Hostel.
Sat at the roadside having counted them all in (less the deserter and the splinter group, who were, by now, probably in the pub) I saw big pieces of wood and planking being brought out of the main door of the hostel. Confused, I went to see why and found some of the splinter group, constructing a series of ramps up which people were pushing scooters into the hostel. It was so steep it was a three-man job to get a single scooter inside and further examination found there were ramps and steps right through the hostel and its restaurant to the courtyard at the back! Now all we had to do was get 56 scooters through this impromptu and slightly wonky gymkhana course. I should have been surprised. I wasn't.
It was not long before we found the deserter and his colleagues in a local bar and started to wind down. Fitzy was asleep sat at a table outside the bar in the sun, with his head propped up by one hand. It quickly became obvious he had not read Waggy's copious 'Introduction to Belgian Beer' as, having consumed several pint glasses of ten per cent strength lager, he was close to comatose.  Initially Hoppo and Walker showed grave concern, bringing him pizza to eat and coffee to drink, all of which he refused by mumbling what sounded like "leave me alone".  This quickly turned into concern for his potential sunburn as several others found a plant-pot to put on his head to 'keep the sun off'. The more usual antics then ensued, and everyone began to finally enjoy themselves after the longest 51-mile ride they had ever done. It was marred late in the evening when news reached the FOSs that one of their number had been 'glassed' and had to be taken to hospital for stitches and X-rays to a suspected fractured cheekbone, but more of that another day. Keith not only survived the attack but rode home on the Sunday.
Saturday morning after breakfast the group wandered round Ieper. What a beautiful place. The large building in the marketplace was the 'Cloth hall' and like the church it stands next to, it were completely obliterated during the war. In fact, its re-building began in the 1940's and it was only finally finished in the 1960's. 95% of the town was destroyed during the fighting, but you'd never know that to see it now; it was an awesome place.
Humbling
FOS's plan was to take everyone to Hill 62, a memorial a few miles outside Ieper. Plan 'A' and largely based on how long it took to 'gymkhana' the scooters into the hostel on Friday was to go by bus. They soon discovered Belgian buses cannot hold 56 people, so half a dozen got bus tickets while the rest enacted plan 'B' got out the planks, bits of wood, riding gear and brought the scoots back through the building and onto the streets. The sight of almost 50 scooters riding through the Menin gate Memorial brought a tear to the eye.  Fostorian and Leicester Scooter Alliance member Phil Caddy took over satnav duty and once we had actual co-ordinates and knew there were no motorways en route, we set off for Hill 62.  Funnily enough, some people still needed fuel, so we stopped just outside the town at the first garage we saw.  As is the way with scooterists, and before everyone was ready, someone struck up their engine and moments later everyone was off, oblivious to the fact there were people still fuelling up. 
At Hill 62 there was a distinct change. The laughing and joking slowly subsided. FOS had included the cost of this in the trip, and as the group looked around this monument and museum to the fallen, everyone was hit, and probably in quite different ways, with the realisation of what their forebears had suffered so they could stay British. It was a sobering moment for all, as we wandered about looking at the collection of memorabilia, the old photos, and then the re-creation of the trench's soldiers had lived in and fought from.  Everywhere we looked we saw inhumanity and death.  Gone was the noise you usually associate with any group of scooterists, replaced by the eerie quiet of the corner of a foreign field.  Among the trees and trenches, were the remains of tree stumps, blown to bits almost 100 years ago.   It was humbling. Some of the group took a moment to think long and hard and feel for one Fostorian, whose father had been a German soldier in World War Two. He probably found this hardest of all to deal with.  It was sobering; unpleasant even. It also made us realise two things. How lucky am I? And that whatever I may be, I am not worthy to walk in these people's footsteps, whichever 'side' I may have fought on. 
Tin hat
One after another, people were coming to look, to talk, and everyone was amazed at the journey the guys had taken to pay homage to the fallen soldiers. Then of course, someone brought the thing back to earth, put a tin hat on Keith, the unfortunate who had been attacked the night before and who now looked like he'd gone ten rounds with Mike Tyson, and tried charging one Euro a photo.  It's never long before a scooterist brings you back to earth with a bump, is it? 
Fostorians may laugh, they may joke, they may go too far having fun, and may drink too much, but they all knew when they left hill 62 what they had found that morning. No one could explain it, but you could see on their faces.   How do you describe something as scary, frightening, yet set in a tranquil place completely at odds with the world you live in?  None of them had any idea.   Next, they visited the war graves and spent some time reflecting on all that before riding back into town, wiser and apart from their tuned exhausts, a lot quieter.
Most the afternoon was spent in temperatures approaching 30 degrees, lounging in the town square eating good food and consuming excellent beer in the best company, they know, FOS Company.  For Pat Piggot however, it was time to find out where almost 13 litres of fuel had gone from his long range Lambretta tank. Turns out one of the two floats in his carb had a hole in it, had kept the float fully open and all the fuel was either in his cylinder or in his exhaust. Removing that was easier than trying to figure out how to fix the float. Pat eventually figured out the best course of action was to just cut off the offending float and hope the other one stayed intact and would shut the fuel flow off! It worked; he rode it back.
The talk among the FOS was all about what they had witnessed earlier in the day and what a fabulous place Ieper is. Pat Piggot got a message on his phone later in the afternoon to say the FOS were in the Grimsby Telegraph and much to everyone's amusement, the paper had pegged  Panel-Off Parker as 'The main organiser' of the trip.  You see in the FOS, no one is in charge and little if anything ever gets 'organised', it just sort of happens, good or bad.  While this seems to be the FOS's most endearing quality, it can also backfire sometimes and for the rest of the trip, everyone took the piss out of Jake and rightly so!
Bear witness
Saturday evening approached and it was time to do what they had all come to Ieper for, lay a wreath for those who had fallen. If you have never been to Ieper and seen the nightly ceremony at The Menin Gate, then you are advised to take some time out of your hectic life and go see it. It is one of the most moving things you will ever witness.  Every night of the year, since the end of WW1 (apart from the duration of WW2) the Belgians have held this ceremony to blow the 'Last Post' and honour the fallen of that great war and lay wreaths. On Saturday June 8th 2013, at 8pm, 56 British Scooterists were also part of that.  The group were given kind permission to lay two wreaths. Gibbo (Alan Gibson), Gaz (Gary Crossley) and Robbo (Andy Robinson) laid one wreath, while Paul Craven, Tiffy Whitehead, Phil Gibson, John Horwell, Matthew Goodman and Eddie Gibbs of the Under 5's laid the other. Everyone else from the FOS was there to bear witness.
Once over, the town got back to normal. In the case of Fostorian scooterists this meant the normal act of enjoying oneself and a night on the town beckoned. Free of idiots wielding broken glass, all one can really say is that a good time was had by all. They witnessed a Belgian Stag party which mostly seemed to consist of women in a local bar using wax strips to remove all the poor 'stag's', un-wanted hair much to the amusement of the FOS.
Later, in the hostel dorm rooms, the group had some schoolboy antics to contend with, including people already asleep being serenaded by others who were, to use the correct vernacular, 'completely leathered' while annoying the crap out of everyone else by trying to play George Hugill's guitar while George himself, the only one who could do the thing justice, was roaming the town trying to buy the only kind of alcohol the Belgians do not drink; cider. Sorry, Cidre!
Beer expert
Overcast Sunday morning dawned, and it was out via wooden ramps once more for 56 scooters. There was another panel off moment as Crossley's Vespa needed a new spark plug, while Robbo was busy changing a CDI unit on his scooter.   Bags were loaded into support van, the splinter group were back, and for reasons no one had yet fathomed, the deserter hadn't been court martialled.    Waggy, the Belgian Beer Expert pulled out the Breathalysers and took great delight in checking folks out. Spooner had a go and was told it was too dangerous for him to even try walking home!  I knew the route home would be a happier and far quicker ride, but only following a 30 minute call to a colleague in the UK the day before when they went on Google and found out how to 'factory re-set' the Tom-Tom so we could re-programme it to avoid Belgian motorways!  
56 scooterists managed only 48 miles back to Zeebrugge in less than 2 hours, with no motorways, no mishaps and they rode slowly too. Total contrast to the preceding Friday!  It helped that everyone who needed it was sent off to fuel-up before they left. It helped that they all followed the leader. It helped that when they stopped, so did everyone else. They were all learning the ways of large group riding, which to be fair, was new to almost everyone. What helped the most was that Gunner Crossley, young Rob Stewart, Gibbo and 'the main organiser' worked out a way to manage traffic at roundabouts to keep things moving.  For Satnav Sally, it was a joy to watch. They rode at 40 – 45mph. Gibbo, Parker, Crossley and Stewart were always in my mirror at every roundabout.
They stopped traffic, dropped to the back and by the time we hit the next one, they were back at the front of the pack.  Clockwork.  No instructions, no discussion before leaving, just common-sense prevailing for once; a rare thing in FOS Tours.    It helped that Pat had already fixed all the broken scooters too!
Monumental
I only realised the monumental size of the task we had taken on when, on joining the E403 for the last 3 miles, I dropped down the slip road and under a bridge.  When I looked back all I could see were scooters, and I had ridden over a kilometre and a half from that last junction! That was the FOS at work. That is why they do this.  I figured that in the end, I actually had the easy job. I just had to follow a computerised Bimbo giving instructions, look at an open road check out a few signs. How hard must it have been to drop back over a kilometre at each roundabout and then be right at my back by the time they hit the next one? Those roundabouts were no more than 2 to 3 miles apart in most cases and scooters filled over a third of that distance in one un-broken line.  Few people in that line had any idea of the work that was going on to keep it together. That one time I looked in my mirror and saw all that, I felt proud to be leading these guys home.
Half a mile from the docks, so busy was I looking at the satnav screen, instead of looking at the big "The ferry is this way signs", I peeled off right on the wrong road.  My how everyone laughed as 55 scooterists behind me slammed on their brakes and figured it out instead of just following.  They were awake after all then.  Back at the docks the 'main organiser' asked me what happened? I simply said, "It was all going far too well… I had to do something…." Little did he know.
Three hours till check in so everyone buggered off to the nearest watering hole, but not before the 'main organiser' had told everyone they were in for some fun on the ferry home as three sets of hen parties were due on board. Spirits at a high for once they all rode to the nearest bar. Split up into various groups along a sea front of sorts, eating and drinking and generally relaxing, the under 5's found what must have been the scruffiest pub on the planet and thought it highly amusing when the owner panicked about them putting beer glasses on a well stained and wonky pool table. Of all the places they had been into, this was where the FOS decided to leave one of its flags. It was all going swimmingly until the scootering gods re-appeared and decided that far from having an easy boat ride back, they were going to bollox it all up again.
Scootering Gods
At about 3.30pm, Col, Bob Grabiniok, young Stewart, and Paul Hunt all decided to go back to the docks early. They tried to check in only to find that they were not, in fact, booked on the 'hen party' ferry that night, but the one sailing the next evening!  Oh dear.  Four scooterist's dockside, 51 in the pub and no way home today!"  They hi-tailed it across the road to the P&O terminal building and asked the only person on reception what could be done. Fortunately, his answer was, "There are no problems, only solutions. Give me a few minutes".  (Imagine that happening at Dover or Hull?)
Next Roger arrived. The group did think Roger was going to pass out in front of them when, in those few seconds between them telling him, and him realising they were not, for once, taking the piss,  the realisation dawned that he may have to find 56  scooterists hotel rooms  for the night!  The 'main organiser' was at this point, still in the pub a mile away!
Bob, Paul, and Roger started working the problem. Did they have a passenger list? Yes, it was in Bob's bag. It was all given to every man before leaving. Good job really….  Who booked the tickets? Roger was there.  How many persons? How many vehicles?  Do you have the names of all of them?  The only enemy they had now was time. Fortunately, the receptionist could type faster than we seemed able to ride.
The poor guy at P&O reception had to manually un-book 56 scooterists a van and car off one boat and add them to another. He called the captain to ask him to rip up his loading plan and completely re-arrange the car deck to accommodate everyone. He called the Purser to re-allocate all the cabins, so everyone had a bed.  No small thing in the middle of summer season, but luckily the boat wasn't full. The captain, during one the calls made about this issue, asked if there were any women in our party. A voice from the back said, "No, but I'll take one for the team if it will help". It was Crusty!  By the time everyone else got to the docks it had almost all been sorted out.  There was a moment's panic when half of the riders were asked to go queue up while the rest were still being added to the boats manifest, but they all got on.
Dog and pony show
Apart from the fact that the antics on the way home were considerably worse than those on the way out, we will say no more other than, you know who you are! Oh, and apparently the hen partyists had been so badly behaved on the way out, FOS discovered they had all been banned from the bar on the boat. There were some antics with a few of the hens, but for the sake of those involved it is maybe best kept a secret. I am sure the dog and pony show will end up on facebook, or somewhere….
Monday morning, as it often does in blighty, dawned early and frankly miserable. Grey, cold and overcast. In other words, summer. 56 Fostorians old and new disembarked only to find the van pulled back by customs sniffer dog patrol. Nothing  to worry about really, until someone wondered how Dave was going to explain the fags and baccy of getting on for 50 people in the back of the van.     The van was allowed out and then it was bags out and hi-tail it for breakfast at The Hainton before heading home. For quite a few riders this meant riding much further than they had over the weekend, though nothing like as slowly. Two Fostorians had long rides home. One was heading back to London, the other to Newcastle!
So, was FOS Tours fifth foreign tour any good? They took far too many people.  They had fun, they got frustrated, they gritted their teeth, they lost the will to live, worked together and overcame obstacles, were humbled and overwhelmed, paid their respects to the fallen, felt honoured and yes, they got drunk too. As usual, it was brilliant and if you missed out, then I am sorry, but you missed the best FOS Tours trip yet. They may have been too big a group to manage, they may have had to nurse sick scooters and stop a lot, some may have been woefully badly prepared for even a short 50 mile ride on foreign soil, but they made it there, paid their respects to the fallen of World War One,  had fun and made it back.  And surely that, in the end, was the whole point.
One Fostorian, in the car park at Hull docks was heard saying, "That was the biggest emotional rollercoaster I have ever ridden".  He never mentioned his scooter. That sums it up nicely.
Colin Cartwright